Los artistas estadounidenses Busta Rhymes y Mariah Carey se reunen de nuevo en 'Where i belong' presentada con el siguiente videoclip, dieciocho años después de su exitosa anterior colaboración, 'I Know What You Want'.
El vídeo musical, dirigido por Chris Robinson y parcialmente animado con inspiración en una novela gráfica estilizada por Frank Miller, continúa donde terminó el de esa anterior colaboración, 'I Know What You Want' (alcanzó el puesto #3 en Billboard Hot 100 de EE.UU. en 2003). Se abre con un cameo de Trippie Redd, mientras que La'Shontae «Tae» Heckard repite su papel del clip original. Mariah aparece con un vestido color burdeos de charol mientras toca notas altas junto a Busta.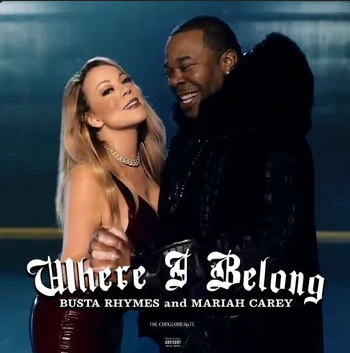 'Where I Belong', producida por Navi Beats & Rick Rock y con composición de éste último con Michel Sotolongo, J-Doe & Busta Rhymes, aparece en el último álbum de Busta, «Extinction Level Event 2: The Wrath of God», décimo álbum de estudio de su carrera y la secuela de «ELE» de 1998, que se lanzó en octubre del año pasado y que incluye otras colaboraciones de Kendrick Lamar, Mary J. Blige, Rick Ross o Rakim.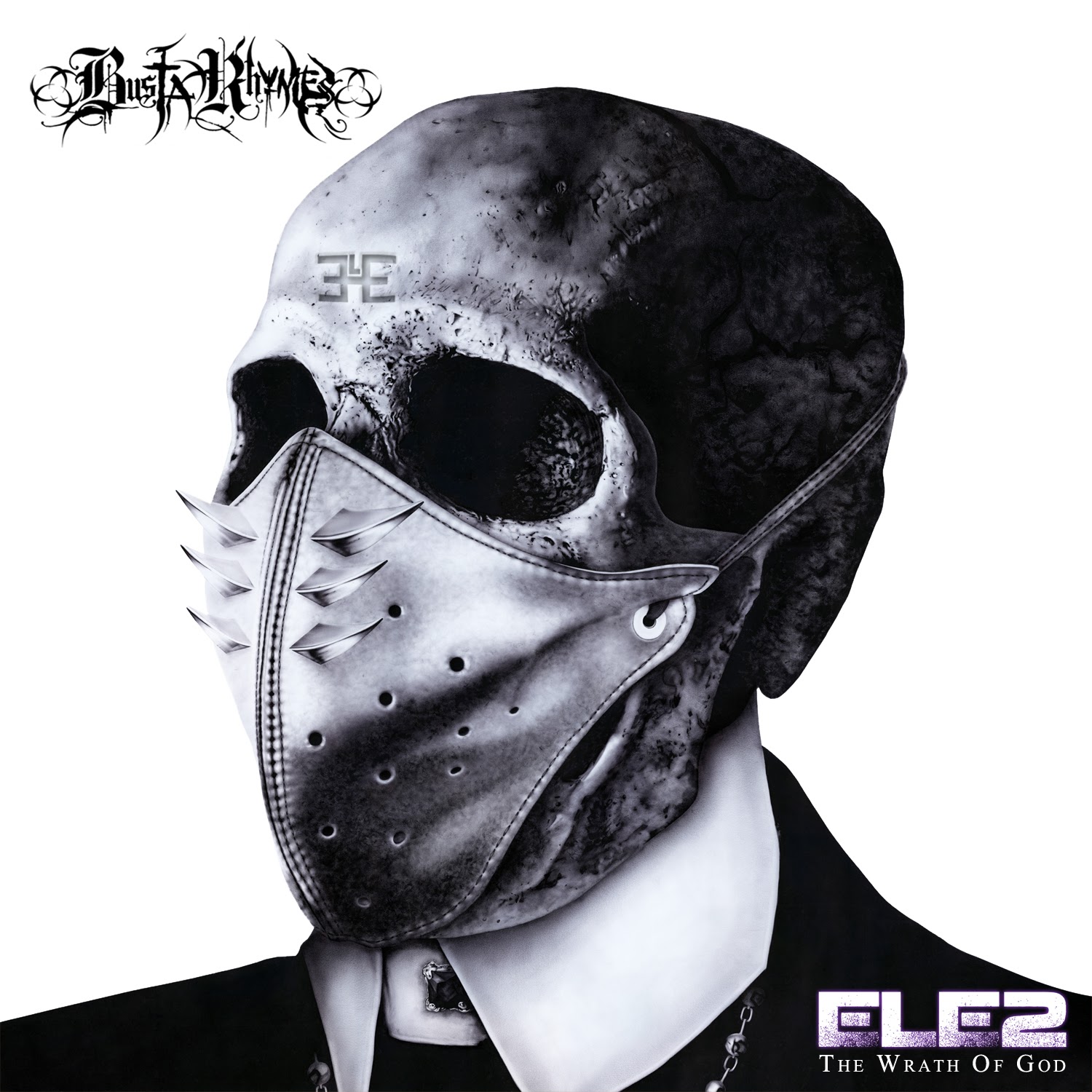 Y en realidad es su cuarta colaboración entre Busta Rhymes y Mariah Carey, tras la versión de 'Last Night A DJ Saved My Life' de InDeep para la banda sonora de «Glitter», el gran éxito 'I Know What You Want' y el verso inédito de Busta en 'Side Effects'.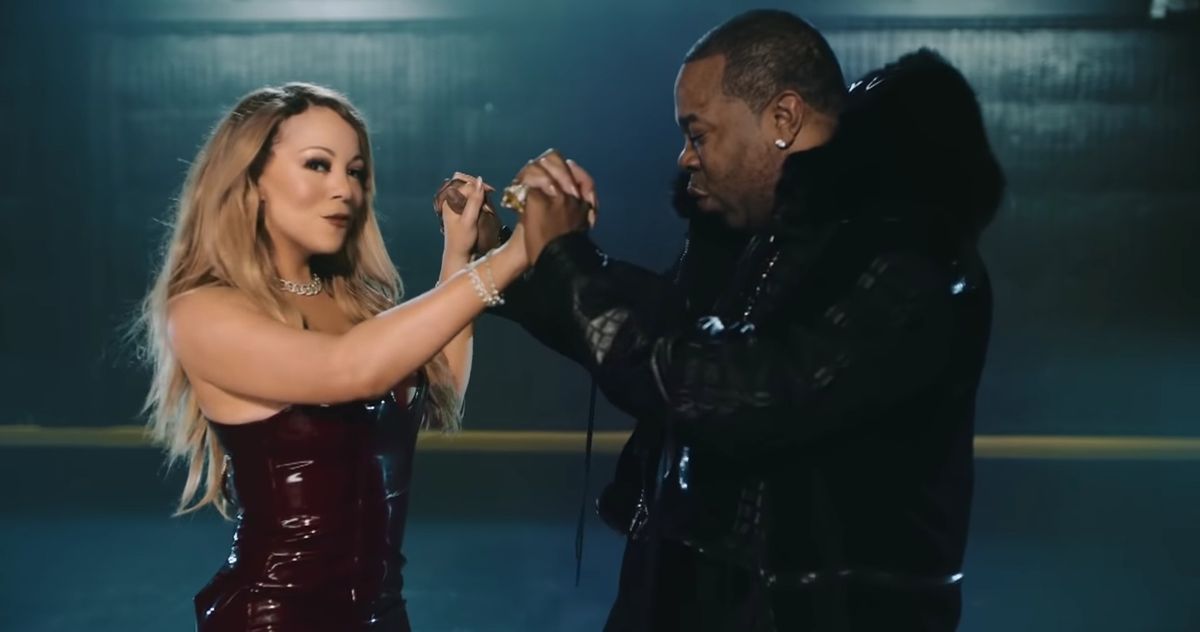 Letra 'Where i belong' de Busta Rhymes & Mariah Carey
[Chorus: Busta Rhymes & Mariah Carey]
Don't keep me waitin' for too long, girl
Come through, take it off, let's get it on, girl
Too long I've been messin' with the wrong girl
Should've known that you was right where I belong, girl
I won't keep you waitin' for too long, boy
Come through and take it off and get it on, boy
Too long I was messin' with the wrong boy
Should've known you was right where I belong, boy
[Post-Chorus: Busta Rhymes & Mariah Carey]
Ooh-ooh, ooh-ooh, ooh-ooh-ooh
Ooh-ooh, ooh-ooh, right where I belong, girl
Ooh-ooh, ooh-ooh, ooh-ooh-ooh
Ooh-ooh, ooh-ooh, right where I belong, boy
[Verse 1: Busta Rhymes & Mariah Carey]
Mami, I got something to share with you
And put together a plan that I wanna prepare with ya
Listen, I ain't tryin' to annoy ya, I got it for you
I might wanna spoil ya and cook a lil' arroz con pollo
Ma, you're more than a dime, you're like a roll of quarters
Your shit's in order, purer than a dozеn of bottled waters
Make mе wanna just kinda wanna see ya longer than normal
Kinda wanna support her, sorta love up on her
Kissin', touchin', you feel it when you rub up on her
Kinda feelin' like she want me to put the lovin' on her
Now everything 'bout this feel good, let's put it all in order
Ain't tryna rush it, but it's hard to fight this any longer
(Why you tryna fight it, baby?)
I ain't tryin' to fight it, but
(I ain't tryna fight it, baby?) I'm sayin'
See, I don't even know what's happenin', shit is makin' me bug
It feels good, but I wish I knew what it was
'Cause, look here
[Chorus: Busta Rhymes & Mariah Carey]
Don't keep me waitin' for too long, girl
Come through, take it off, let's get it on, girl
Too long I've been messin' with the wrong girl
Should've known that you was right where I belong, girl
I won't keep you waitin' for too long, boy
Come through and take it off and get it on, boy
Too long I was messin' with the wrong boy
Should've known you was right where I belong, boy
[Post-Chorus: Busta Rhymes & Mariah Carey]
Ooh-ooh, ooh-ooh, ooh-ooh-ooh
Ooh-ooh, ooh-ooh, right where I belong, girl
Ooh-ooh, ooh-ooh, ooh-ooh-ooh
Ooh-ooh, ooh-ooh, right where I belong, boy
[Verse 2: Busta Rhymes & Mariah Carey]
Hmm, check it, ma
I love the way that you put it down and you rep it, ma (Ooh)
The way you ride for your nigga, yes, I respect it, ma (Yeah)
And if I make a mistake, you help me correct it, ma, I'm with you
You know how I want it, girl
Let me just take your mental through motions around the world
And when it's most essential, I love how you make it work
And with the most potential, I hope that you never hurt, I hope you see it
Baby girl, you're my greatest supporter
And while I talk about us, I give 'em another scorcher
And when they walk around us, we stand up in front the altar
And let's rewrite our history standing in front the altar, know we need it
While I'm lookin' at you, I'm sippin' a Malta
And every time we be together, the temperature warmer
You know I'm tryin', but (Why you tryna fight it, baby?)
You see, this candle here for us, and I'm lightin' it, baby
Come on with me, look here
[Chorus: Busta Rhymes & Mariah Carey]
Don't keep me waitin' for too long, girl (No)
Come through, take it off, let's get it on, girl (Oh)
Too long I've been messin' with the wrong girl
Should've known that you was right where I belong, girl
I won't keep you waitin' for too long, boy
Come through and take it off and get it on, boy
Too long I was messin' with the wrong boy
Should've known you was right where I belong, boy
[Post-Chorus: Busta Rhymes & Mariah Carey]
Ooh-ooh, ooh-ooh, ooh-ooh-ooh
Ooh-ooh, ooh-ooh, right where I belong, girl
Ooh-ooh, ooh-ooh, ooh-ooh-ooh (Ooh)
Ooh-ooh, ooh-ooh, right where I belong, boy
[Bridge: Busta Rhymes, Mariah Carey, Both]
Baby girl, better know that I really give it up to you
And a nigga feelin' right, but I know it's all because of you (Oh)
All the weight you be carrying, I wanna lift it off for you
All the lovin' that you need, baby, how I got it all for you?
Baby girl, you're someone and then you know I gotta get it
And I'm comin' and I'm runnin' and I'm gunnin' for that love
And the lovin' better none to man than lovin' that's above
(I'ma love and I'ma heal)
That lovin' you need in a strong way, long way
Now come and give it to me all day, look here
[Chorus: Busta Rhymes & Mariah Carey]
Don't keep me waitin' for too long, girl
Come through, take it off, let's get it on, girl
Too long I've been messin' with the wrong girl
Should've known that you was right where I belong, girl
I won't keep you waitin' for too long, boy (Oh)
Come through and take it off and get it on, boy
Too long I was messin' with the wrong boy (Oh)
Should've known you was right where I belong, boy
[Post-Chorus: Busta Rhymes & Mariah Carey]
Ooh-ooh, ooh-ooh, ooh-ooh-ooh
Ooh-ooh, ooh-ooh, right where I belong, girl
Ooh-ooh, ooh-ooh, ooh-ooh-ooh
Ooh-ooh, ooh-ooh, right where I belong, boy